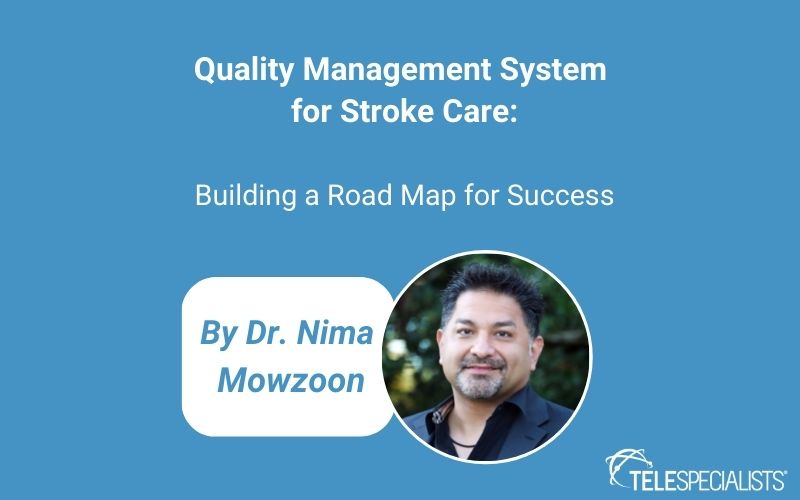 On-Demand Webinar
You know what the Target: Stroke standards are, but do you know how you're going to achieve them? Join Nima Mowzoon, MD, MBA, CEO at TeleSpecialists as he explores the steps successful hospitals take to achieve their stroke program goals, including obtaining national stroke accreditation and certification.
The secret? An exceptional Quality Management System.
With data from over 14,000 TeleNeurology and TeleStroke consults each month, Dr. Mowzoon will explain how quality management makes a difference. He'll share examples of how to put key components into place, from executing and operationalizing the necessary resources, to utilizing continuous process improvement initiatives.
He'll also explain how to use available tools to improve stroke care, as well as specific activities and strategies to help build a successful roadmap to obtaining those elite levels of recognition in stroke care that you and your emergency department team are striving for!
This webinar is now available on-demand.
Speaker's bio:
Dr. Nima Mowzoon, MD, MBA, Chief Executive Officer, began his educational journey at the University of Miami School of Medicine and completed his internship in internal medicine and a neurology residency and fellowship at the Mayo Graduate School of Medicine.
He started his neurology career as an Associate Staff at Mayo Clinic Rochester in Albany, NY. In 2007 he moved to Fort Myers, Florida, and subsequently became the Director of Stroke and Vascular Neurology at Lee Health System. Along with establishing all protocols of care and advancing the program to Comprehensive Stroke Center designation, he was also responsible for establishing the transitional care clinic "Lee Prevent," which provides stroke patients rapid access to outpatient clinic follow-up care after hospitalization.
Dr. Mowzoon founded Virtual Neurology, a national telemedicine company, in 2012 and later he founded a telemedicine management company, TeleSpecialists.