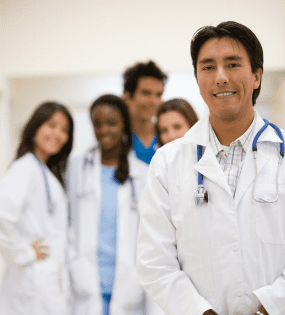 The Background:
The DAWN(DWI or CTP Assessment with Clinical Mismatch in the Triage of Wake-Up and Late Presenting Strokes Undergoing Neurointervention with Trevo), was created to measure the effects of stroke treatment in the timeframe outside the AHA and ESO guidelines of 6 hours. Funded by Stryker Neurovascular, Dr. Nogueira and Tudor Jovin, MD were named Coprincipal Investigators and led the DAWN Trial.
A 2016 analysis suggested that the benefit of thrombectomy rapidly decays over time and may no longer exist beyond 7.3 hours from stroke onset (or TLSW). (Saver et al, JAMA. 2016). The results of the DAWN are particularly beneficial for patients with wake-up strokes, strokes with an unclear onset time or witnessed late presenting strokes, which represent a large portion (around 40%) of LVO (Large Vessel Occlusion) Stroke, which previously had no proven treatment options.
The Study:
A total of 206 patients were enrolled in the study and randomly assigned a group based on factors such as site of the stroke occlusion and the time-from-last-seen-well; 107 in the thrombectomy group and 99 to the control group. Patients were randomly assigned to thrombectomy (using theTrevodevice) plus standard medical care (the thrombectomy group) or to standard medical care alone (the control group). The median time of patients having received treatment in the DAWN trials was 12.2 hours and 13.2 for the control group. Patients were then followed for 90 days for results.
The Conclusion:
The study concluded that across all factors, treating stroke with endovascular thrombectomy in DAWN-eligible patients from 6 to 24 hours of symptom onset showed considerable improvement in functional independence and wellness at 90 days, versus standard care alone. Stroke can be tricky to identify but thanks to the DAWN trials, we now know that there is a larger window to treating stroke than once thought.
Tudor Jovin, MD,University of Pittsburgh School of Medicine, Pennsylvania, the study's lead investigator, summarized: These results greatly expand the population of patients who can benefit from mechanical thrombectomy for stroke, to significantly reduce functional impairment in the mostly severely affected patients, he added. Time is still obviously very important and the earlier the treatment is given the better the results, but we have shown in this trial that it shouldn't be the only factor that determines whether we consider endovascular therapy.
How will this impact facilities that have the capability to treat stroke patients? Patients that typically would have fallen outside of the treatment window now may benefit from thrombectomy and standard care. Any medical facility that could receive a stroke patient should review protocols to transfer patients to an EVT (Endovascular Treatment) facility as more patients can benefit from EVT. While this is certainly a pathway to a wider treatment window, time is brain still applies and each acute stroke case should still be treated as quickly as possible.
With the opening of this window of EVT treatment, more neurologists may be needed to assess and treat the influx of patients that now qualify in the 6-24 hour timeframe, instead of sending them straight to standard care. TeleSpecialists can implement a turnkey TeleStroke program, proving Board-certified neurologists via cart (licensed in your state and credentialed in your facility), fill any gaps in neurologist scheduling, assist your facility in stroke certification, and lower transfers of stroke patients to other facilities.
For more information on how TeleSpecialists can assist in building your TeleStroke program, contact us.