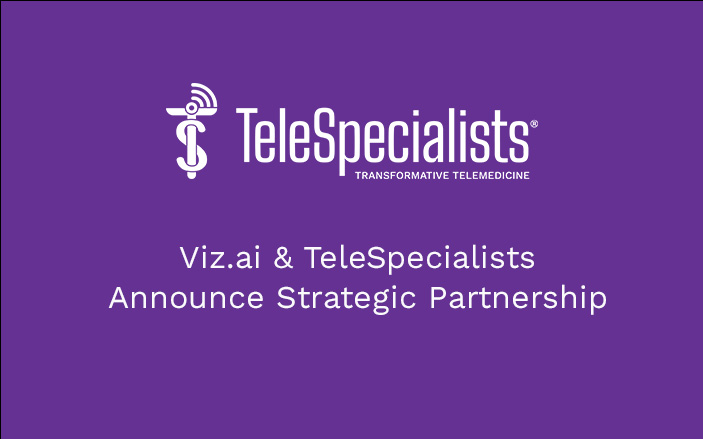 Viz.ai and TeleSpecialists Announce Strategic Partnership
SAN FRANCISCO – February 9, 2022 – Viz.ai and TeleSpecialists, LLC  have entered a strategic partnership that will bring AI-powered stroke care together with leading telestroke neurologists to optimize time to treatment and improve patient outcomes across the United States. The partnership combines the Viz Intelligent Care Coordination platform and the expertise of TeleSpecialists' neurologists to help advance medicine by alerting providers and giving them direct access to high fidelity imaging, patient information, and HIPAA-compliant communication. This partnership will further facilitate stroke care coordination even when the patient and provider are hundreds of miles apart. Moving forward, the two organizations will partner on additional technology, workflows, and research opportunities.
"This strategic partnership with TeleSpecialists will further enhance intelligent care coordination for stroke patients, when every minute counts," said Dr. Chris Mansi, CEO of Viz.ai. "We also look forward to opportunities the partnership will present as we expand our AI portfolio into multiple medical specialties."
Viz.ai's mission is to make healthcare work faster and smarter, and by partnering with TeleSpecialists, Viz.ai is further positioned to bring the efficiency of AI to more patients and physicians. The flagship Viz LVO product is proven to improve workflow in time-critical therapies such as stroke, accelerating treatment times which leads to better patient outcomes.
TeleSpecialists has achieved world class excellence in patient care via telemedicine, bringing an expert physician to the bedside in under three minutes. The organization's proprietary software, TeleCare, is an immediate intelligent routing and queuing system that sends consults directly to physicians. In an area of medicine where speed of treatment is essential, TeleSpecialists consistently provides life-saving treatment more efficiently to its patients.
"This partnership helps to further our organization's mission of saving lives. Any opportunity we have to save valuable time and help our patients receive life-saving treatments more quickly will always be the utmost priority for our team," said Dr. Nima Mowzoon, MBA, CEO of TeleSpecialists "Our work with Viz.ai directly impacts our patients and allows for us to advance medicine even further."
Partner hospitals of TeleSpecialists and Viz.ai will be able to integrate the Viz.ai platform into the TeleSpecialists telecare platform for a more seamless and integrated workflow experience. The integration allows TeleSpecialists physicians to see the advanced imaging and data on their smartphones as soon as it is available and make life-saving decisions more quickly.