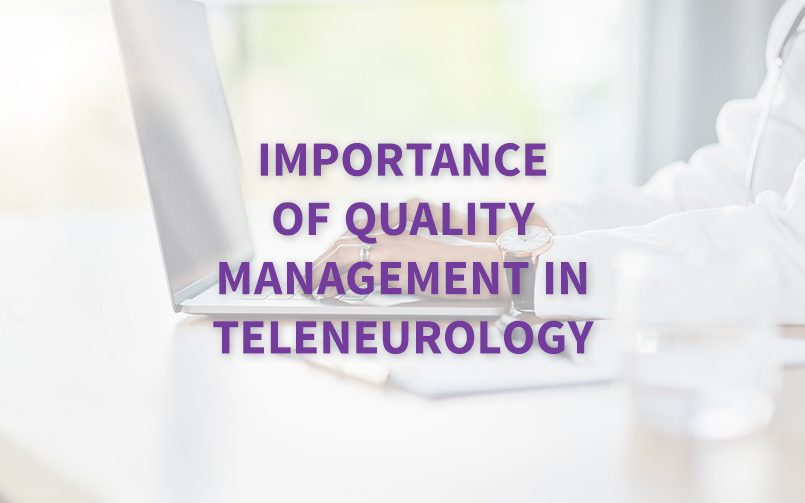 Quality neurological care is an issue every medical facility should take seriously. More than 795,000 people in the United States have strokes every year, and rapid response action at the first sign of symptoms is essential for getting these patients the help they need. However, not all facilities have dedicated specialty teams, so many organizations — especially rural hospitals — need outside solutions for quality diagnosis and treatment.
TeleNeurology services offer an appealing solution. By working with reliable TeleNeurology partners, a facility can gain access to the neurological services its patients need while minimizing the costs associated with maintaining a neurology department or transferring patients to more comprehensive facilities.
If your organization chooses to partner with a TeleNeurology service, you'll want to look for one with a robust quality management program. That way, you can ensure quality neurological care and more optimal patient outcomes.
Why TeleNeurology Quality Management Is Essential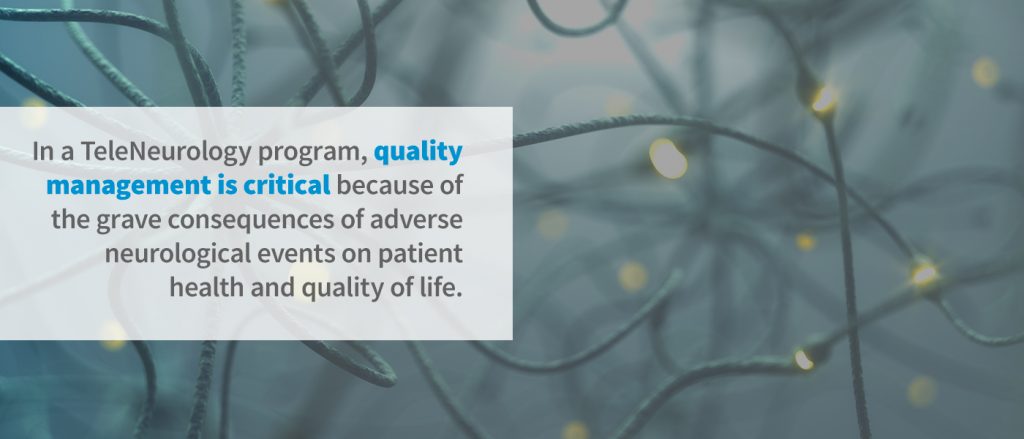 In a TeleNeurology program, quality management is critical because of the grave consequences of adverse neurological events on patient health and quality of life. Rigorous quality management in TeleNeurology provides advantages in areas like these.
Physician availability and response time: The first step in treating a neurological patient through TeleMedicine is to get the patient's case in front of a qualified neurologist. An effective quality management program means a capable team or algorithm will be available to match the consult to a physician right away. Then, the case can proceed quickly to a diagnosis and a successful treatment protocol.
Compliance with regulations and standards: A robust quality management program ensures neurologists have the credentials to consult across various state lines and the licensing that certifies them as experts in their field.
Patient outcomes: Neurological patients need immediate care to recover their quality of life after a stroke. Adequate quality management ensures that stroke patients get accurate diagnoses and the timely care they need.
How to Measure Quality in TeleNeurology
What are some useful metrics for measuring quality? Below are a few quality KPIs in TeleNeurology — your facility can use them to evaluate different services and compare them to your current neurological care.
Time to video: The time it takes you to get a doctor on video and ready to work with your facility is critical. Because rapid intervention is vital when a patient is having a stroke, you'll want to partner with services that can get doctors onto video with patients right away. Then, they can quickly assess the patient's condition and collaborate with in-house doctors and nurses. At TeleSpecialists, our average time to video is less than four minutes — less time than an in-house doctor often takes to walk across the hospital to a patient's bedside.
Door-to-needle time: Door-to-needle time is one of the most crucial metrics in TeleNeurology. It measures the time from a stroke patient's entrance into the medical facility to the administration of thrombolytic agents. At TeleSpecialists, our highly trained team works tirelessly with our partner hospitals to implement best practices to reduce DTN times, resulting in more positive patient outcomes.
Thrombolytic rates: As you speak with potential TeleNeurology partners, make sure you verify that patients who fall within the time window for receiving thrombolytics get this treatment. Of course, some patients will not qualify because they take anticoagulants, have a bleeding stroke or have recently undergone surgery. Still, thrombolytic rates can give you valuable information about the access to care patients will receive through a TeleNeurology service.
Patient outcomes and overall performance: Temporal metrics aside, your facility is likely to be most interested in achieving a high level of care with successful patient outcomes. Once you start working with a TeleNeurology partner, the platform's analytical capabilities may enable you to measure your facility's results against others in your region or those in similar patient demographics.
What to Look for in a TeleNeurology Partner
When your health care facility is looking for a TeleNeurology partner, you'll want to keep a few essential qualities in mind.
1. Partner Accreditations and Certifications
When you're considering how to choose a TeleNeurology partner, start with evaluating accreditations and certifications. You'll likely want to look to third-party bodies that have developed rigorous accreditation criteria for medical services. Below are two good organizations to start with.
The Joint Commission: The Joint Commission is the most prestigious health care accreditation body in the United States. Joint Commission accreditation ensures TeleNeurology services can provide the same standard of care a patient would receive in a quality hospital. Look for a TeleNeurology partner with Joint Commission accreditation to gain the peace of mind of knowing its expertise, reliability and professional services have received the highest seal of approval.
The International Standards Organization: The International Standards Organization is an independent, non-governmental organization that develops standards to ensure high quality and safety in professional practices. ISO accreditation for a quality management program means the TeleNeurology partner meets the highest care standards.
Additionally, you'll want to make sure the technology platform itself has the proper certification. Look for verification that the program meets all the security and privacy standards required under the Health Insurance Portability and Accountability Act.
As a clinical care provider, you also need your TeleNeurology partner to have robust clinical and practice management skills, so your organization will want to make sure your potential TeleNeurologist partners have board certification. You will also want to look for neurologists who have completed fellowships in subspecialties like vascular neurology, neurophysiology or epilepsy, and have several years of experience in their chosen fields.
2. Stringent Clinical Quality Management Program
You'll also want to look for a TeleNeurology service with a rigorous quality management program, continually monitoring quality metrics and addressing any issues immediately to ensure high levels of care. You'll want to consider quantitative metrics as you assess a program's quality management capabilities, including the time to video and DTN.
As you evaluate potential TeleNeurology partners, ask how they match each consult with a specific neurologist. They may have live dispatchers who prioritize and assign cases, or they may use sophisticated computer algorithms. Either way, you'll want to make sure your health care facility chooses a service whose quality management program focuses on adequate scheduling. That way, you know the service will have enough neurologists ready to respond promptly to your consult requests and get your patients the expert care they need.
Your TeleNeurology partner should also have a designated point of contact for your organization, such as a quality program specialist or quality assurance team. That way, you'll be in continual touch with an expert who understands your facility well. This person or team can dedicate personalized time and energy to ensuring your program's success. For instance, a quality program specialist can manage day-to-day communications, prioritize and respond to service requests and facilitate overall smooth and efficient coordination between your facility and the TeleNeurology service.
3. Compatibility With Your Operational Needs
As you evaluate a potential TeleNeurology partner, consider your health care facility's operational needs carefully. Below are a few of the factors you will need to consider.
EMR migration: Because electronic medical records are now mandatory in many medical practices and are standard in the industry overall, an excellent TeleNeurology service will offer seamless EMR migration. That way, you can transfer patient records to and from your TeleNeurology partner conveniently and securely.
An advanced technology platform: Look for a TeleNeurology partner with a particularly sophisticated technology platform as well. Your facility might be interested in capabilities that use statistical analysis to predict future TeleNeurology demands so you can plan your staffing needs more precisely.
Flexibility: You should also look for an adaptable, flexible platform that gives you the freedom to choose different options as you need them. For instance, you might require a range of services to meet specific clinical needs, or you might need to be able to contact the partner TeleNeurologists at any time of day or night.
Configurability: Sometimes, you may want to change your TeleNeurology platform to align it better with your workflows. In this case, look for a highly configurable, customizable platform that helps you optimize your facility's capabilities and give your patients the best service.
4. Financial and Reporting Services
A reliable TeleNeurology partner will give you the financial and reporting services you need to monitor, analyze, improve and ensure accountability for your processes. Look for valuable reports and data like these:
Types of consults your facility has engaged in
DTN analysis
Data on total patient volumes
An analysis of service-level agreement compliance
Metrics that allow you to measure your performance against other facilities based on your region, patient demographics and stroke center designation
In-house billing and reimbursement services designed specifically for TeleMedicine partnerships
This last metric is crucial because financial services tailored to TeleMedicine help your facility comply with health care regulations and avoid fraud.
About Quality Management at TeleSpecialists
At TeleSpecialists, we've committed to providing fast, high-quality neurology TeleMedicine services. Our quality management program provides oversight and feedback to help us support your facility with superior patient care and a record of favorable health outcomes.
Part of our quality management program involves close monitoring of metrics to ensure we're providing the best services we can. Our average consult response time of under four minutes is one of the fastest in the business. We also actively look for ways to help our partnering facilities make their workflow processes more efficient.
Our commitment to TeleStroke quality management is also evident in our certifications and rigorous vetting of our neurologists. Our physicians are leaders in their field, and we have received ISO 9001:2015 certification from Bureau Veritas. All our TeleNeurologists have also undergone extensive background checks and past verification, and our licensing and credentialing department ensures that each one receives the licensure necessary to meet the requirements of each state where we work.
We also demonstrate our commitment to quality through our Rapid Response Center. This dedicated and entirely in-house call center streamlines the quality and speed with which we take partner facilities' calls. For emergency cases, the team member who answers the call will record the necessary information and then immediately dispatch a physician to the case.
This efficient service helps us provide swift, accurate care, and we encourage your facility to take advantage of it. Some TeleNeurology services suggest health care facilities wait to call until they are relatively sure the patient is having a stroke. We think differently. We encourage your facility to get in touch at the first sign that a patient might be having a stroke. That way, you can make every second count in getting your patients the care they need.
Every partner facility also gains a dedicated Quality Program Specialist to work with your program and help you attain your performance and quality care goals. Your Quality Program Specialist may assist with services like these:
Accreditation and certification support
Analysis of acute stroke management care processes
Best practice compendiums to support ongoing learning
Community activity support
On-site education, consultation and training
Partnerships for publications, presentations and research
Stroke coordinator onboarding
About Our Services
At TeleSpecialists, we provide an array of comprehensive, turnkey medical services to help your facility address patients' neurological symptoms as soon as they appear. When you work with us, you'll gain a dependable way to cover specialty gaps in your facility while gaining access to trusted advice, accurate diagnostic skills and clinical leadership in program oversight.
Our strengths in the quality of care set us apart from our competitors. We provide rapid service, skillful diagnoses and expert collaboration on treatment plans. Below are two specific TeleNeurology services we offer.
TeleStroke: Through our TeleStroke services, your facility can call our emergency number, and our teams will dispatch a TeleNeurologist immediately for a remote consultation. An attending physician at your facility can administer an exam, and the TeleNeurologist will observe. The physician can also order a CT scan, which the TeleNeurologist will receive immediate access to. If the exam and scan show that the patient is having a stroke, the TeleNeurologist can order that the patient receive alteplase to break up the blood clots in their brain. The TeleNeurologist will then continue collaborating with the local team on the patient's care.
TeleNeuroHospitalist: Our TeleNeuroHospitalist services provide non-emergency follow-up care for stroke patients. TeleNeuroHospitalists can also consult about various non-emergent neurological symptoms like dizziness, vertigo, seizures, migraines and transient ischemic attacks.
When you work with us, you'll make your health care workers' jobs and your patients' lives easier. Partnering with TeleNeurology specialists means you will not have to transfer patients to a facility with a dedicated neurological department. Instead, you can keep your patients in the comfort of their familiar surroundings, family support and free more of your staff's time for direct, compassionate patient care.
Learn More About How TeleSpecialists Can Complement Your Practice
When your facility needs to implement comprehensive neurology TeleMedicine services, contact TeleSpecialists for quality solutions. With our TeleStroke and TeleNeuroHospitalist services, we can get your patients the specialty help they need as soon as you suspect they may need it, and we will provide comprehensive follow-up care. We have had consistent success with our hospital partners in improving patient outcomes through our rapid response times, quick diagnoses and timely treatments.
Contact us today to learn more about how TeleSpecialists can assist your health care facility with neurological services.