State Policies and Good Intentions Cause an Influx of Stroke Patients
States like Colorado, Florida, New York and Massachusetts have changed state policies to instruct EMS to take stroke cases straight to thrombectomy qualified stroke centers.
The shocking statics:

According to the American Stroke Association, stroke is the second leading cause of death worldwide and the leading cause of disability. On average, someone dies of a stroke every 3.7 minutes, which adds up to around 389.4 deaths from stroke each day in the United States alone.


The push for thrombectomy:


Most states still rule that Emergency Medical Services (EMS) should take stroke victims to the nearest stroke certified facility whenever possible. However, this practice may be short-lived. Policies that dictate how EMS handles stroke patient transport change from state-to-state and some of these changes seem to challenge the American Heart Association's (AHA) recommendation.


Why the sudden change?


According to EMS1.com, the recommendation of transporting stroke patients to the nearest stroke certified facility came before the discovery of thrombectomy, the procedure that can remove blood clots from the brain during a stroke episode. New research on the procedure has provided physicians with more information that patients who suffer a severe stroke have a much better chance of survival without some of the long-term impairments such as loss of visual-perceptual skills, emotional functioning, and personality changes. It is because of this research that many states are working to change EMS policies to ensure that the most critical stroke patients get the thrombectomy surgery they need as quickly as possible.

"Neurological professional groups recommend that if a comprehensive stroke unit is within a two-hour flight or drive, then severe stroke patients should be transported there, even if a lower-level stroke unit is closer." - EMS1.com


Another initiative that is gaining momentum and has a hand in states passing these new policies is Get Ahead of Stroke. It is relevant to note that this campaign was founded by the Society of NeuroInterventional Surgery and is backed by industry leaders such as the National Alliance of Pediatric Stroke and the National Association of Emergency Medical Technicians. Their aim is to get all 50 US states on board with their message:


"Since 2016, Get Ahead of Stroke has worked across the country, creating state legislative changes focused on bringing severe stroke patients to a Level 1 stroke center, where they would have access to a specially trained neuroendovascular care team that can help them 24/7/365." - GetAheadofStroke.com


The push behind the Get Ahead of Stroke campaign is to transport the stroke patient to the right place, in this case, a Comprehensive Stroke Center (CSC), the first time so that time is not wasted. This is the suggestion for all severe stroke victims, whether the patient is a thrombectomy candidate or not.

Currently in the US, according to the Joint Commission and the DNV, there are approximately 273 accredited Comprehensive Stroke Centers, compared with 1200+ primary and stroke-ready hospitals that are available to treat stroke patients. Although Comprehensive Stroke Centers have the surgical abilities to treat stroke, the latest state and organizational push to have EMS bypass a Primary Stroke Center (PSC) and go straight to a CSC may even test the limits of the most capable facilities. State and Get Ahead of Stroke initiatives promote the importance of EMS education to vet stroke patients properly, however, due to the lack of training materials available, there is some concern among PCS's that perhaps a "better safe than sorry" approach from EMS may start to develop.




partner hospitals, before hiring TeleSpecialists, that they've had to call a neighboring CSC to assist their facility because they didn't have adequate staff. The shortage of physicians and patient transfers only furthers the delay of treatment to the patient, keeping in mind that the initial CSC could be up to two hours from the patient's location.
With the thought "time is brain" being top of mind, facilities still face time obstacles. How does the patient get the treatment they need without the risk of long-term damage?
Worst case scenario:


Consider the tragic story of a young mother in Wisconsin who suffered a stroke. EMS transported her to a Level 1 stroke center. The facility was at capacity and had to turn the patient away. Consequently, the patient died.


Although good intentions drive the Get Ahead of Stroke Campaign, state policies will inevitably, if they haven't already, cause an influx of stroke patients, and consequently, every CSC will need to have the neurologist capacity to handle the additional volume.

How will your facility keep up with the sudden influx of stroke patients coming through your hospital doors?


The solution:


The neurology and emergency room staff need the most robust, data-driven stroke program in place that is consistent with providing the same quality care at 0200 as it would at 1400 hours. The facility would need to have neurologists ready 24 hours a day, 7 days a week, 365 days a year and be able to accommodate concurrent stroke alerts without delay.


TeleStroke is recognized by the AHA/ASA as a service that should be supported as a method to ensure adequate 24/7 coverage and care of acute stroke patients. (see excerpt from the 2019 update from the 2018 guidelines for early management of acute ischemic stroke below)
AHA also suggests that "telestroke networks, as part of a stroke system of care, may help shorten hospital length of stay through advanced care, avoid a large number of unnecessary transfers, identify specific stroke patients who require urgent interventions or surgery." - Ahajounrals.org


The growing team of board-certified, vascular-trained neurologists at TeleSpecialists can handle the influx of patients at any facility.
Physician response time to a patient's bedside averages less than 5 minutes. TeleSpecialists has succeeded in maintaining this rapid response metric consistently throughout their growth in overall consult volume.
Our TeleStroke service has helped many Comprehensive Stroke Centers to ease the strain of over-worked physicians, expensive transfers and the influx of patient care. Don't wait until you are turning patients away. Learn more about our services here or call TeleSpecialists today 866.785.7769.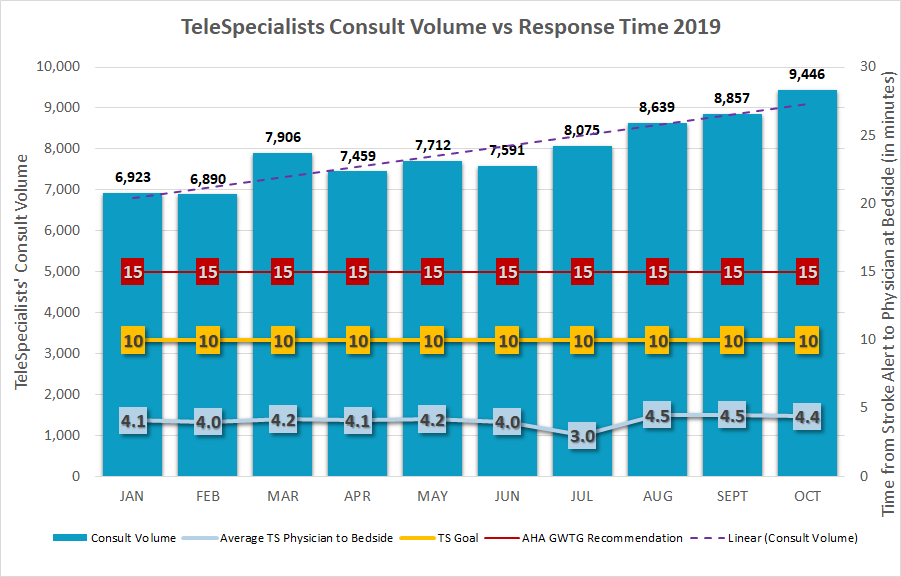 The states who have adopted the legislation:

Colorado, Florida, Massachusetts, Ohio, and New York share the statistic that stroke is the fifth leading cause of death in these states. In addition, these states have implemented a state policy that EMS should take stroke patients to the nearest thrombectomy-qualified stroke center. The length of time varies from state to state, but generally, the maximum amount of time in these particular states is within 2 hours of the patient's location.


The inevitable issue:


The healthcare business is about saving lives. If a Comprehensive Stroke Center is where the patient needs to be, EMS should transfer the patient there. The concern is that most Comprehensive Stroke Centers are already struggling to retain the proper number of neurologists on staff without overworking their physicians. Often, we've heard from our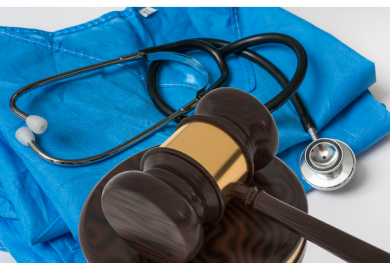 Rapid TeleStroke response brings a neurologist to bedside within 5 minutes, on average, from the time your call is placed. This results in dramatic improvement of average
Door-To-Needle(DTN) times and patient outcomes.
Lean tools such as Value Stream Mapping are used to identify and remove inefficiencies and minimize variability in processes, resulting in a lean environment for telemedicine stroke alerts.
We provide follow-up consults for retained stroke patients and routine, non-emergent neurological consults for admitted new patients. Our TeleNeurologists conveniently round on patients in the comfort of your hospital's inpatient setting.



TeleNeuroHospitalist Rounding
You Can Have a 24/7/365 TeleStroke Program
Prepare Your Facility - Call Us Today 866.785.7769

What Our Hospital Partners Are Saying....
"Using the Value Stream Mapping and the Post-it Notes helped us solve little problems that we didn't even know existed…so that we could shave off every single second available, so that we could save as much brain as possible." ~ Gwen Lambert, MSN, RN, NE-BC
Director of Professional Practice, CHS Pineville

"Using TeleSpecialists for acute stroke services at CHRISTUS Good Shepherd Medical Center – Marshall has helped us provide our patients with neurological care at the bedside that would otherwise be unavailable. Through this service we are able to quickly evaluate patients for acute stroke while helping decrease door-to-needle times." ~ Sandi Wagner, RN, Telemedicine and Stroke Coordinator
CHRUSTUS Good Shepherd Marshall

© 2019 TeleSpecialists. All Rights Reserved.