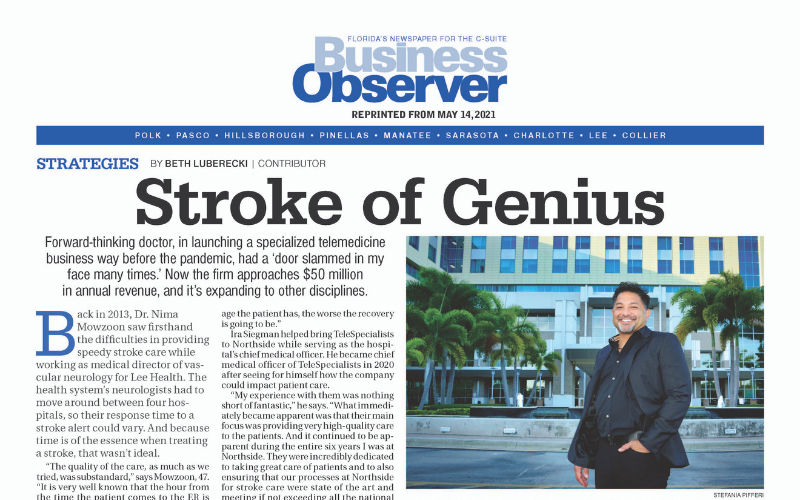 TeleSpecialists Feature Story in Business Observer
Forward-thinking doctor, in launching a specialized telemedicine business way before the pandemic, got a 'door slammed in my face many times.' Now the firm approaches $50 million in annual revenue, and it's expanding to other disciplines.
by: Beth Luberecki Contributor
Back in 2013, Dr. Nima Mowzoon saw firsthand the difficulties in providing speedy stroke care while working as medical director of vascular neurology for Lee Health. The health system's neurologists had to move around between four hospitals, so their response time to a stroke alert could vary. And since time is of the essence when treating a stroke, that wasn't ideal.
"The quality of the care, as much as we tried, was substandard," says Mowzoon, 47. "It is very well known that the hour from the time the patient comes to the ER is the golden hour, and how much disability they have [for the rest of their life] is determined by what happens at the hospital in that hour."
Though Mowzoon was aware of telemedicine — the practice of using technology to care for patients remotely — he hadn't had much experience with it himself. But he began to see how using the technology could help improve stroke care.
"I thought, this is something I can do not only at Lee Health but anywhere in the United States," he says. "I can be in Oregon seeing a patient and the next minute hop to Florida and the next minute hop to North Carolina."
He got four other forward-thinking physicians on board, and TeleSpecialists was born. Founded in 2013, the Fort Myers–based company has grown significantly since then, with its teleneurology services now being used in more than 200 hospitals and 30 health care systems in 24 states. The company saw 25% growth in 2020, and officials project $50 million in 2021 revenue.
"This is a success story; this is the American dream," says Mowzoon, TeleSpecialists' CEO. "For a group of five physicians to go into a whole new venture without a blueprint — we had to create everything from scratch, and the door got shut on us many, many times." READ MORE