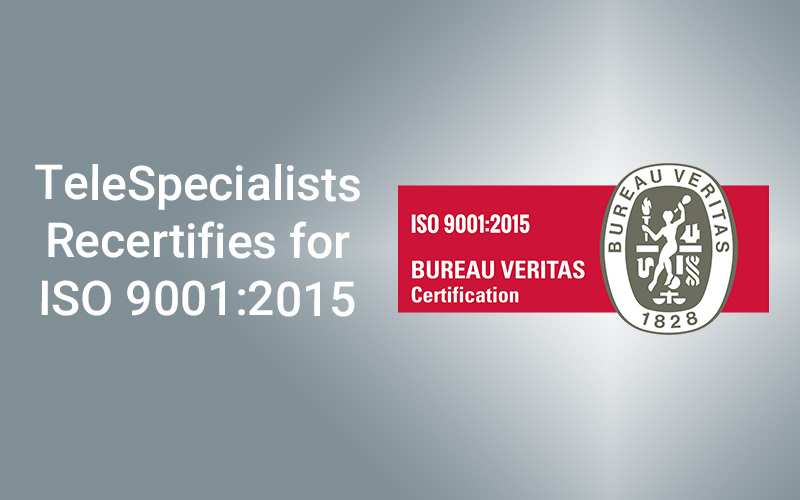 TeleSpecialists Recertifies Exceptional QMS
TeleSpecialists has successfully recertified for ISO 9001:2015, the international standard that specifies requirements for quality management systems. TeleSpecialists is the only hospital-based telemedicine company to maintain ISO 9001:2015 certification, issued through Bureau Veritas. Maintaining the coveted certification ensures continuity of the highest quality management tools and services for TeleSpecialists hospital partners, including continuous process improvement activities. During the recertification audit, Bureau Veritas found zero nonconformances and zero opportunities for improvement. Five strengths were recognized, as follows:
High focus on continual improvements as demonstrated in various projects and activities which have been implemented and are planned (i.e., mentoring program, chart reviews, new service offerings, e-alerts, providing Hospital PR kits, etc.).
Posting testimonials and feedback from patients and hospitals on public website, linking them directly to the administrative, physician, and support staff who provided services is an excellent method to recognize employee accomplishments and highlight teamwork.
Tools in place to identify, assess, and determine requirements for planning new or additional services are well documented and provide a strong foundation/framework for decision making (i.e., Implementation checklist, New Service Line Analysis/Scorecard, Service Ops Plan, Service Line Opportunity Matrix).
The organization collects, analyzes, and maintains a high degree of data used to both monitor and provide the foundation for identifying improvements.
Completing a formal security risk assessment and identifying opportunities for improvement in security posture is an excellent example of preventive and proactive management of the IT environment.
ISO 9001 quality management system standards are designed to help organizations ensure they address the needs of customers and stakeholders while meeting statutory and regulatory requirements related to a product or service. ISO 9001 examines seven quality management principles: customer focus, leadership, engagement of people, process approach, improvement, evidence-based decision making and relationship management. TeleSpecialists has successfully maintained the standard during significant growth over the past three years.