Why Telepsychiatry Is So Crucial for Mental Health Treatment
Approximately 20% of adults in the United States have a mental illness. Conditions like anxiety, depression, substance use disorder, PTSD and bipolar disorder affect millions of people. While mental illness may not be as easy to see as physical illness, it can severely impact a person's quality of life. Treatment for mental illness can make a significant difference. While mental health treatment is available, barriers to care remain. In some cases, asking for help still comes with a stigma. Services may be too far away to reach regularly. Whatever the reason, not everyone who needs help receives it. Health care providers face the challenge of expanding mental health treatment to reach those in need. Telepsychiatry is a powerful tool for expanding mental health services in many settings, including hospitals and emergency departments.
EXPANDING MENTAL HEALTH SERVICES IN THE HOSPITAL SETTING
Multiple disciplines have documented the benefits of virtual care, including stroke care, radiology and cardiology. Telemedicine allows patients and providers to connect remotely, which can reduce the cost of care, increase access to care and play a vital role in preventive care. Psychiatry is one of the top specialties for telemedicine. The American Psychiatric Association shares resources for providers who want to learn more about using telepsychiatry in their practices. Telepsychiatry offers patients an accessible and affordable way to connect with mental health care providers in various settings, including hospitals. One study found that mental health concerns account for one in eight emergency room visits. There is a clear need for mental health care in emergency departments, but challenges to accessing this kind of emergency care remain. For example, patients suffering from anxiety and depression may put off an emergency visit due to the stress of waiting in a crowded ED and fears of facing stigma for seeking help from a provider. What does telepsychiatry in hospitals look like? A patient may present with symptoms of a mental health crisis at the emergency room. The on-site staff can perform an initial evaluation before connecting the patient virtually to a psychiatrist on call. The psychiatrist can evaluate the patient, work with them to reach a place of stability, then coordinate with the hospital's on-site staff to determine the best next steps in the patient's treatment plan. Consider these hospitals that could benefit from the expansion of mental health services via telemedicine.
Hospitals with emergency department overcrowding: While urban areas most likely have more psychiatrists, emergency department overcrowding can be an issue. ED crowding can lead to delayed care and poor patient outcomes. Patients struggling with mental health concerns may wait significant periods to see a counselor or leave without receiving essential treatment. Dedicated telepsychiatry in the emergency department can help patients receive needed care without long waits in the physical ED. Using telepsychiatry also helps emergency departments optimize the use of their available beds.
Hospitals without emergency psychiatrists on staff: Once an emergency department sees a patient with a mental health concern, the hospital may not have the resources to provide adequate care. Only a small percentage of emergency rooms have psychiatrists on call. Telepsychiatry for mental health treatment can help address that issue. Emergency departments can integrate telepsychiatry into their treatment approach, ensuring patients can access care when mental health crises arise.
Hospitals in rural areas: Many hospitals in rural areas care for a wide range of patients spread out across great distances. Rural populations may struggle to access timely health care. Additionally, rural areas have considerably fewer psychiatrists than urban areas. People in 80% of rural counties do not have an available avenue to a psychiatrist. With so few psychiatrists in rural areas and the physical difference separating people from their nearest emergency department, these populations often struggle to find help from mental health professionals. Rural hospitals can help bridge this gap by introducing mental health telemedicine.
HOW TO LEVERAGE TELEPSYCHIATRY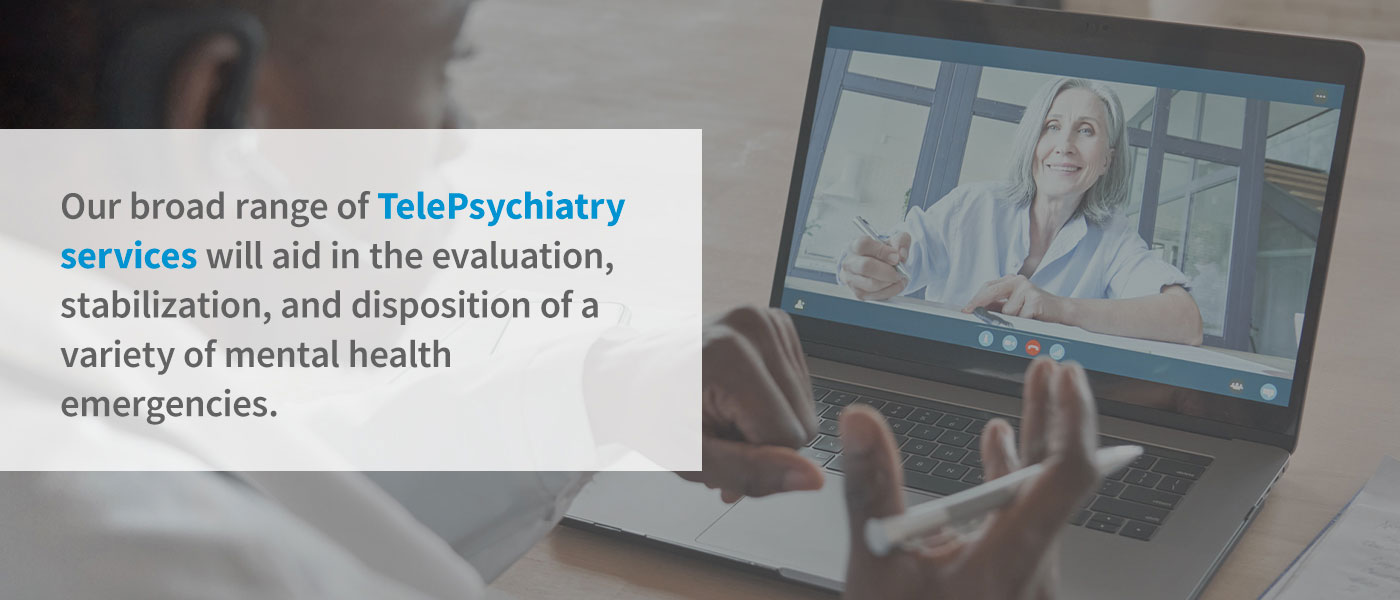 The number of people seeking help for mental health issues at emergency departments has significantly increased in recent years. Patients without access to mental health care in their communities or adequate insurance often turn to the emergency room as a last resort for much-needed help. Most emergency rooms do not have psychiatrists readily available to handle these patients, but hospitals can leverage telepsychiatry to fill that gap. Telepsychiatry can be an invaluable tool for addressing mental health emergencies such as these.
Suicidal ideation: Millions of people struggle with active or passive suicidal thoughts every year. Regardless of how suicidal ideation manifests, people must have access to mental health care. Emergency departments can make care more easily accessible to people struggling with suicidal thoughts via emergency Telepsychiatry.
Homicidal ideation: Homicidal ideation may exist with serious psychiatric and behavioral problems and warrants prompt attention. Through telepsychiatry , a physician can quickly evaluate an individual experiencing homicidal thoughts and determine if they require hospitalization or another form of emergency treatment.
Acute agitation: Agitation is a characteristic symptom of psychiatric disorders, such as bipolar disorder and schizophrenia. Someone experiencing severe agitation or anxiety may need emergency care. A psychiatrist can connect with a patient experiencing acute agitation using telepsychiatry to help them calm down and decide whether a pharmacologic treatment is necessary.
Severe depression: Severe depression can significantly impact a person's daily life. Pervasive feelings of sadness, isolation and physical symptoms are all common with major depressive disorder. If depression becomes severe enough, the person may experience suicidal thoughts. In this case, emergency treatment is necessary, and telepsychiatry can help.
Manic episodes: Individuals experiencing an acute bipolar manic episode often require emergency care and hospitalization, especially if they are a threat to themselves or others. These individuals must get treatment fast, and telepsychiatry helps make this possible.
Acute psychotic episodes: An acute psychotic episode requires immediate medical attention. When someone experiences an acute psychotic episode, they may be at risk of harming themselves or others and need help. Fortunately, with telepsychiatry , a psychiatrist can evaluate the patient and initiate treatment to ensure their safety and stability.
Severe anxiety: Severe anxiety can cause people to seek emergency treatment. For example, panic attacks can send people to the ED. While emergency rooms likely need to rule out other causes of symptoms like chest pain, they may not have the resources available to help someone address the mental health concern. Telepsychiatry can be that resource.
Involuntary commitment: If a person is at high risk of causing harm to themselves or others, someone may try to have them involuntarily committed to a mental health facility. In most states, police have the authority to take a person with severe mental illness to a hospital or mental health clinic without their consent. In such cases, these patients need an emergency psychiatric evaluation. Telepsychiatry can help hospitals quickly evaluate those who need it most.
Severe adverse reactions: Psychotropic drugs can cause severe side effects for some people, ranging from mania to violent behavior. In some cases, these adverse reactions are life-threatening. Telepsychiatry helps move patients out of the waiting room for a fast evaluation when there's little time to spare.
Hospitals can employ telepsychiatry in several different ways. This tool can provide support for times like these.
Admission and discharge: When a patient presents with symptoms of a mental health crisis, emergency room doctors need to decide how to treat them and whether to admit them to the hospital. For hospitalized patients, their care team needs to determine the length of stay. Telepsychiatry can provide support when making admission and discharge decisions. One study found that 80% of emergency departments using telepsychiatry did so for admission and discharge.
Transfer: The same study found transfer coordination as a close second in typical telepsychiatry applications. If a patient needs further care in another part of the hospital or a different facility, psychiatrists can help coordinate that decision via telepsychiatry .
TELEPSYCHIATRY BENEFITS FOR PATIENTS
Expanding emergency department telepsychiatry can have significant advantages for patients.
Access to care: The United States has a shortage of psychiatrists and psychologists. Most comparable countries have more mental health professionals. The practicing psychiatrists in the U.S. are unevenly distributed throughout the country, creating more than 5,000 mental health professional shortage areas. This lack of access leaves millions of people vulnerable and without adequate access to mental health care. Telepsychiatry allows patients to remotely connect with mental health care providers regardless of their location. People who cannot access a psychiatrist in person can get that much-needed care via telemedicine provided by their local emergency departments. One study found that telemedicine for behavioral health concerns decreased mean emergency room wait time from 27 minutes to 12 minutes.
Convenience: Telepsychiatry not only provides a necessary service to people who cannot otherwise connect with mental health professionals, but it also offers a convenient way of accessing that care. Patients do not have to drive for hours to reach a crowded office with long wait times. Similarly, they do not have to wait for hours in a crowded emergency department that does not even have a readily available mental health professional. Telepsychiatry allows emergency departments to connect patients virtually with trained, available psychiatrists who can assess them and efficiently coordinate their next level of care.
Cost-effective care: Telepsychiatry can also be a less expensive way for patients to access mental health care. This tool can help reduce a patient's length of stay in the hospital, eliminate unnecessary patient transfers and reduce avoidable hospital admissions. Lowering the cost of care may also make patients more willing to seek mental health support when they need it.
Better outcomes: Studies have shown telemedicine can improve patient outcomes. Receiving care, especially in an emergency, is vital for people struggling with their mental health. Expanded access to mental health care services is a significant step in improving patient outcomes, and Telepsychiatry can play a role in that expanded access.
TELEPSYCHIATRY BENEFITS FOR CLINICIANS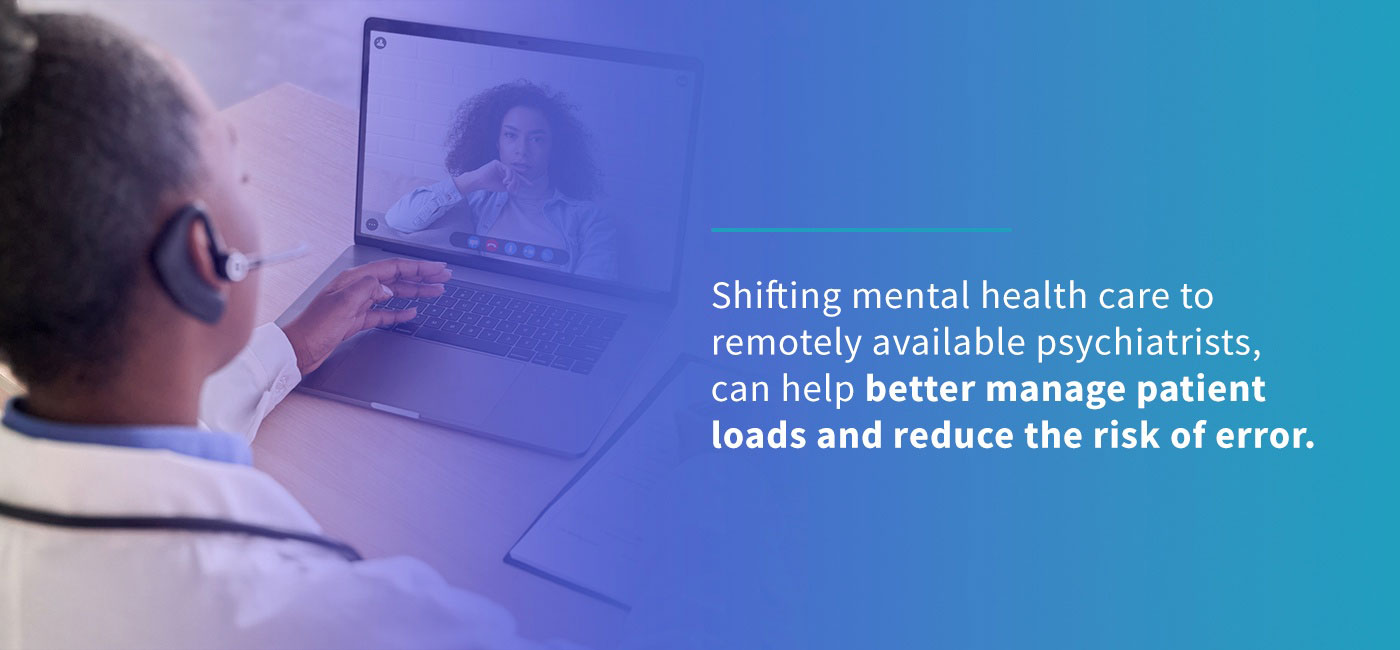 Overcrowding in emergency departments may make it challenging to provide the best care possible. However, by shifting mental health care to remotely available psychiatrists, physicians can better manage patient loads in busy emergency departments and deliver high-quality care. Trained psychiatrists available via these services can reduce the wait times for patients with mental health concerns and help the in-person team determine the appropriate treatment. Coordinating care can bring down unnecessary hospital admissions, keeping more beds available for patients who need them. Clinicians and hospitals can also benefit from the use of telepsychiatry .
Clinician support: Addressing the psychiatrist shortage is one of the essential telepsychiatry benefits. With so many mental health care health professional shortage areas in the U.S., many emergency room providers struggle with an influx of patients without psychiatrists' support. Telepsychiatry provides support to clinicians where other mental health care services are not available. This service also promotes care coordination for the patient, which is a crucial part of the overall quality of care. The psychiatrists can remotely work with the in-person care team to determine admission, transfer and discharge for patients.
Improved patient throughput: Efficient patient throughput helps hospitals use their resources to treat people promptly. Patient flow is a metric that plays into the overall quality of care and patient satisfaction. Telepsychiatry can help emergency departments and hospitals more effectively manage throughput.
Decreased readmissions: Approximately 76% of hospital readmissions are preventable. Telepsychiatry is one strategy for reducing these avoidable readmissions. When patients wind up in the emergency room for mental health issues, they may not have access to a practitioner who specializes in mental health. Cases like these can leave patients confused about their condition and plan of care. Without that support, they are more at risk for future hospital visits. Telepsychiatry offers patients more specialized support, a clear assessment of their condition and insight into the correct next steps. Telepsychiatrists can also coordinate with the hospital's team to determine if and when admission, discharge and transfer are appropriate. This level of engagement can help keep patients out of the hospital.
Increased patient satisfaction and engagement: Hospitals use patient satisfaction and patient engagement to determine the overall quality of care. If a patient must wait hours or even days to receive mental health care in the hospital, their satisfaction with the experience might be low. Patient satisfaction with Telepsychiatry is generally high. According to a study including telepsychiatry statistics, most people who used telepsychiatry were comfortable with the experience and would use it again. A survey conducted during the COVID-19 pandemic found that more than 75% of people were very satisfied with their telemedicine experiences.
Increased revenue: The COVID-19 pandemic significantly increased the adoption of telemedicine across many health care specialties. As that adoption rate continues to rise, telemedicine could grow to account for $250 billion in revenue. Emergency departments and hospitals might use telepsychiatry to add another revenue stream. With remote psychiatrists on deck, emergency departments can facilitate treatment for more mental health patients and free up team members to treat other patients. Increased patient capacity translates into increased revenue. The cost of providing virtual care is typically less than the cost of in-person care, another financial benefit of telepsychiatry.
TELESPECIALISTS TELEPSYCHIATRY SERVICES
Mental health emergencies cannot wait. At TeleSpecialists, we partner with health care facilities to offer comprehensive TelePsychiatry services. Each facility that works with us goes through a thorough implementation process to establish the necessary protocols and resources to support your patients. Here are some of the benefits of our services.
Board-certified psychiatrists: Our board-certified psychiatrists are here to help your patients with a wide range of mental health concerns. They can assess patients and determine the next steps for their treatment.
24-hour access: Mental health emergencies do not only occur during regular business hours. Our TelePsychiatry services are available to your patients 24 hours a day, every day of the year.
Rapid on-screen presence: TeleSpecialists strives to provide a psychiatrist on-screen within one hour.
Operational support: We also provide operational support. The facilities we work with receive support for revenue cycle management and optimized regulatory compliance.
Quality metrics: Through our TelePsychiatry services, you'll have access to real-time quality metrics, easy-to-access reports and process improvement tools. You can use these features to identify areas that need improvement in your facility and ultimately boost workflow and increase patient satisfaction.
Integration with existing technologies: Our services integrate with existing technologies, allowing our psychiatrists to provide documentation and write orders in your electronic health record.
If your facility is looking for a way to enrich its mental health services, we are here to help. Contact us to learn more about our TelePsychiatry services.