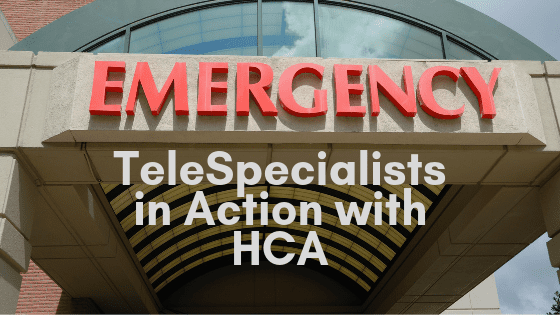 Recently we received feedback on a specific case of excellent stroke teamwork with a partner hospital of ours, Portsmouth Regional Hospital (an HCA facility) in New Hampshire. This case is a perfect example of why TeleStroke is such an important part of telemedicine and how the extensive stroke protocols that we put into place with our hospital partners are vital to premium patient care.
A man in his early 50s arrived at Portsmouth Regional Hospital from Dover Fire with stroke symptoms. The EMS team called in a Stroke Alert en route to Portsmouth Regional Hospital, which enabled the facility to have their stroke team (including the TeleSpecialist neurologist) waiting for the patients arrival in the Emergency Department (ED), allowing for expedited care of this patient.
allowing for expedited care of this patient.
The patient was diagnosed with stroke and given Alteplase (tPA) just 27 minutes after his arrival to the ED and was diagnosed with a Large Vessel Occlusion (LVO). At 56 minutes after arrival to the ED, the patient was transferred emergently to Interventional Radiology for the removal of a clot at the proximal M2 level. By the time the patient left to go up to the Intensive Care Unit (ICU), he was laughing and remained asymptomatic!
Kudos to Dover Fire and the entire team and to Portsmouth Regional Hospital: the ED physician, the ED nurses, the ED Unit Coordinator, CT and X-Ray Techs, plus the IR physicians and team. The Stroke Protocol was enacted with the TeleSpecialist neurologist and the team worked quickly and efficiently to ensure a high quality of life post-stroke for this patient.
TeleSpecialists treat every hospital that we work with as a partnership; our doctors are not just faces that beam in and beam out of the carts. They are credentialed in your hospitals and freestanding EDs. Our doctors write orders directly into your EMR to leave little to no room for error.
For more information on how TeleSpecialists can work with your facility, sign up for a demo at tstelemed.com.