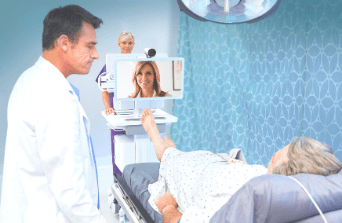 Learn how a quality-focused TeleStroke program can drive positive results. TeleSpecialists works closely with our hospital partners to ensure a data-driven, high-quality TeleStroke program. We won't settle for less – and neither should your facility. Click on the image below for the infographic.
RECRUITING – QUALITY PHYSICIANS
Board-certified, Stroke-trained Neurologists
Clinically trained, experienced TeleNeurologists can make or break a telestroke program. Our recruiting department works around the clock searching for exemplary physicians in the United States to be ready on-screen for our partner facilities.
QUALITY PROGRAM SPECIALIST
Dedicated Quality Program Specialist
TeleSpecialists provides each of its partner hospitals with a dedicated Quality Program Specialist to review cases and best practices to ensure each facility is offering exceptional health care to its patients. The partnership is ongoing, with recurring meetings based on the needs of the hospital. Each of our Quality Program Specialists are Registered Nurses with ER and / or stroke training.
RAPID RESPONSE CALL CENTER
In-House 24/7/365 Rapid Response Call Center
Rapid TeleStroke response brings a TeleNeurologist on-screen, to bedside in an average of 5 minutes from the time your stroke alert is placed. This results in a dramatic improvement of average Door-To-Needle (DTN) times and patient outcomes.
24/7/365 QUALITY PATIENT CARE
TeleStroke Saves Lives. Period.
When there is a life at stake, TeleNeurologists and their teams need to act fast, and their precision and teamwork are of the utmost importance. Rapid medical decision making, stroke diagnosis and adherence to evidence-based medicine, in addition to recent AHA guidelines, all lead to increased alteplase utilization rates, generally between 13% to 20%.